Homeowners Associations, better known as HOAs, are prevalent throughout the Santa Clarita Valley. While there are many benefits to an HOA, the potential exists for extreme challenges.
This is the story of one of those challenges. KHTS was approached by Steve Goodman, who resides in the North Park community in Valencia. KHTS shared Steve's frustration with the HOA board, as a similar dilemma might be faced by many of us.
Steve's story
Here is Steve's story.
I have been a KHTS follower for at least 20 years. I wanted to share the following personal story that is currently affecting me and my family, which could probably be linked to countless others residing in one of the many HOA communities located in Santa Clarita during this shortage crisis. water. Here is:
I am a senior living in an HOA community in Valencia. In the wake of the current drought, statewide water crisis, my wife and I decided to redevelop our front yard landscaping. Our HOA community requires submission of an application to the management company for architecture committee board approval. We initiated this process, whose response to the decision was delayed by the HOA Board of Directors.
I had the opportunity to use an excellent professional landscaper and didn't want to wait an unknown amount of time to get my application approved and I informed the HOA that I was moving forward with the job submitted. so that I can respect the 3 days a week of water rationing in Santa Clarita.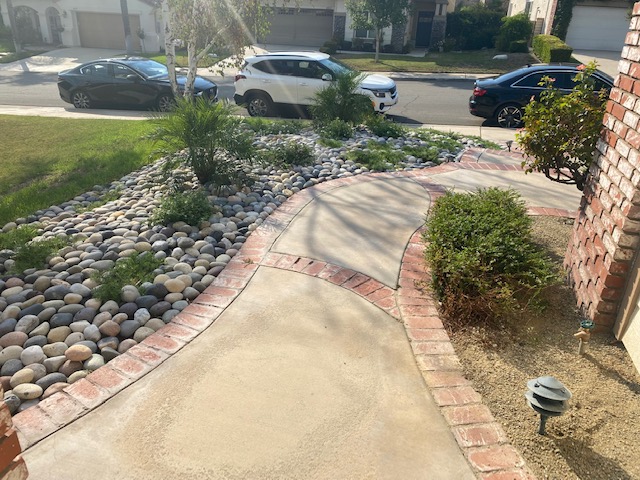 Steve hears from HOA
I received an email just 3 days before my landscaping work started stating that the guidelines call for a ratio of 70% softscape (greenery) and 30% hardscape. Our project was pretty much the opposite. We had river rocks surrounding drought tolerant plants after our front lawn was removed. Each plant has a dedicated drip system to achieve water conservation. In addition, it has been handcrafted to be aesthetically pleasing. The Council came back and insisted on the ratio of 70% plants and 30% rocks. I had my landscaper buy additional ground cover plants that would spread and grow on top of rocks and visually give that percentage of hardscape softscape as it matures.
I presented a 4-page proposal report in person to the HOA Board of Directors made up of elected members of the North Park Community Board of Directors. It was obvious that they resented me for moving forward before their approval and said my plans were not in line with the community CC&Rs. I said that the CC&Rs were originally written around 1997 (25 years ago) and there was no statewide emergency declaration of a crisis of water requiring the rationing of outdoor watering.
I indicated that the river rocks would act as insulation to maintain underground moisture levels to allow plants to thrive during intermittent watering needs. The Commission simply refused to read my report and listen to the logical reasoning. They now require me to revise my already completed project and remove rocks in a ratio of 30% hardscape and the rest 70% plants (softscape).
Thousands of dollars in modifications
It will cost me several thousand dollars to do it. Additionally, the community openly tolerates dead lawns and plants as long as they keep the yard clean. Plus, they tolerate most artificial lawns that accumulate debris, fray and wrinkle along edges and seams, often look fake, and have excessive water runoff. I asked the board to adapt their outdated CC&Rs to reflect the current climate change crisis. I have indicated that property values ​​will be negatively affected by lawns and dead plants compared to upgrades to a contractor installed xeriscape for water conservation.
Once again they refused to listen to my plea to accept my xeriscape project. I told them that anyone with traditional lawns and green plants that meet water rationing requirements will have a limp or brown landscape. The HOA president arrogantly stated that he meets water rationing requirements and has a green lawn. Honestly, that's impossible given the triple digit summer weather we experienced in Santa Clarita. I told him that anyone with greenery in our community was probably not following the rationing rules. There are many people who oppose the system and water beyond the permitted rationing requirements.
HOA attorney joins dispute
I'm sharing a new photo of our (HOA cancelled) Xeriscape. It shows the ground cover growing on top of the rocks and beginning to cover them for a clear visual view of the mostly soft landscape. I predict that if left alone to mature, it will reach the ratio of 70% softscape to 30% hardscape within a few months. Unfortunately, the HOA board doesn't care about the visual appearance above the rocks since they rejected it. They are now sending me a lawyer's letter threatening a lien or continued pecuniary penalties or lawsuit against us if we haven't literally removed the rocks to a maximum of 30% and added plants to fill and produce 70% of softscape and be "harmonious" with the neighborhood according to the CC&Rs which were written in 1997 or 25 years ago, before the water crisis conditions caused by climate change were in place.
The HOA Advocate also has sites where the rocks cause extra heat near our home and transcend the neighborhood. How ridiculous that statement is. My answer was that a 3 car garage concrete driveway also causes heat and North Park has plenty of 3 car driveways. Additionally, these rocks actually create an isolated layer that holds groundwater below for longer periods of time to allow for watering between specified water rationing cycles. Also, it is permeable due to the voids between the rocks allowing water to penetrate the ground compared to non-permeable artificial turf (which is allowed when reviewing the HOA board) and has a runoff of water. "You're damned if you do and damned if you don't."
HOA board okay with dead lawns
The board is ok with lawns and dead plants if you clean it up. However, natural rocks are limited to 30% even with visible ground cover which will produce this 70% requirement.
I'm unfortunately going to spend an extra $5000 to remove the stones and add more softscape because I don't want to go the legal route even though I may have a strong case based on the declared emergency at the scale of the state.
We sadly lost our eldest son in 2020 and as such we are simply not ready to fight in court at this time. I feel extremely violated by the HOA and would like to let KHTS know how rigid-minded this group of people are. It looked like the Spanish Inquisition when I met them in person and tried to appeal to them regarding ground cover plants growing and spreading on top of rocks to visually conform to their guidelines. They just didn't listen to that logic and immediately said "no". They had already made up their mind and resented that I broke protocol by doing the Xeriscape project before getting full approval from HOA.
The dispute is still unresolved
I submitted a full proposal to Ross Morgan, the association's management company, well before construction began, but I didn't want to wait an unknown amount of time for the board to make its decision. So I am now reluctantly submitting a brand new proposal that literally removes a good percentage of our rocks, adds a softscape and an extra drip system for thousands more dollars.
It's sad to think that our board, my neighbors would turn on me and actually turn on the reality of climate change. This crisis simply warrants a change to CC&R to allow new Xeriscape options for its residents as our water supply reservoirs run out and people must do their part to ration their water use.
Steve seeks revenge
By the way, I have ordered a custom 4ft X 8ft banner which I will place in front of my house with verbiage to highlight the rejection of Xeriscape by the HOA board which was based on 25 year old outdated CC&Rs and guidelines it does not take into account the drought crisis in which we find ourselves. I should receive this banner by 9/16/22 or earlier.
HOA Board Responds
After sharing Steve's complaint with the HOA board, KHTS received the following response. "The Association exists to enforce the guidelines set out in the governing documents. Homeowners who have purchased a home in the HOA have this expectation. While following state mandates, the Association must exercise due diligence to maintain the overall aesthetic of the community. »
Do you have any current advice? Call us at (661) 298-1220 or email [email protected] Don't miss a thing. Get the latest KHTS Santa Clarita News alerts straight to your inbox. Report a typo or error, email [email protected]
KHTS FM 98.1 and AM 1220 is Santa Clarita's only local radio station. KHTS mixes a combination of news, traffic, sports and features with your favorite adult contemporary hits. Santa Clarita News and Features are broadcast throughout the day on our airwaves, on our website and on various social media platforms. Our KHTS award-winning daily newsletters are now read daily by over 34,000 residents. A vibrant member of the Santa Clarita community, the KHTS broadcast signal reaches the entire Santa Clarita Valley and parts of the high desert communities located in Antelope Valley. The station broadcasts its talk shows on the web, reaching potentially global audiences. Follow @KHTSRadio on Facebook, Twitterand Instagram.